Founded in 1980, SCOSCHE Industries is an award-winning innovator of consumer technology/electronics and car audio products - committed to delivering superior quality, exceptional value and unmatched customer service. The designers and engineers at SCOSCHE develop products that reflect a rich heritage in audio and mobile technologies. SCOSCHE finds inspiration in the California lifestyle, culture, music and people. These influences can be seen in the accessories and products that are now in the hands, homes, offices and vehicles of people in over 50 countries. With over 100 patents/trademarks and countless industry awards received, it is easy to see why SCOSCHE is consistently at the forefront of technology and innovation.
A heritage rooted in audio technology
Our story originates in 1980. Scosche Industries is founded by Roger and Scotia Alves and begins its existence as a research and consulting business housed in the garage of a residence in Southern California. The company's initial focus was on car audio and its early clients included high-end audio companies like Alpine, Kenwood and more.
In 1982, Scosche published its Autosound Encyclopedia. It's a work considered by many to be the "bible" of the car audio industry.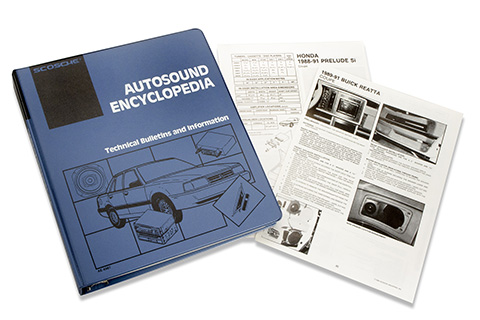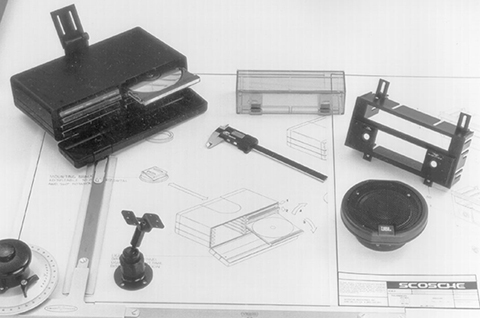 A lineage steeped in innovation
Seeing significant potential in the automotive audio aftermarket, the company's founders began to develop their first product made for a vehicle, a dash kit. Dash kits are used when one is replacing a vehicle's original audio head unit with an aftermarket unit. The company received its first patent in 1984 for a GM vehicle dash kit.
Throughout the 80's Scosche continued to grow its automotive dash kit product offering and also entered new product categories with a flurry of product development and introductions beginning in 1990 with the EFX® line of high-end power distribution blocks, terminals, wire and connectors.
1995 MARKS A TURNING POINT
A number of pivotal events happened in the company's evolution. First, a 3rd member of the Alves family joined the company, Kas Alves. Early on, Kas recognized significant opportunity for company innovation, diversification and growth in the emerging consumer technology market. Kas went to work creating the SOUNDKASE® brand, a line of CD/DVD Storage cases, visor organizers and back packs. The introduction of SOUNDKASE permitted the company to sell its products to the automotive retailer base, thus leveraging its core market strength, and to branch out into the consumer electronics realm. This resulted in a doubling of the customer base virtually overnight.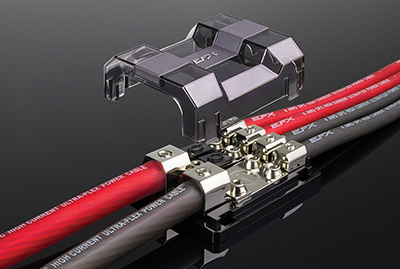 THE COMING OF THE NEW MILLENNIUM
The 4th member of the Alves family, Vince Alves, enters the picture and quickly went to work with his older brother Kas growing Consumer Technology product lines, supporting him in building Key Account relationships and managing the 12V/Car Audio Sales Team.
With a solid footing in the consumer technology market, Scosche was situated to take advantage of other opportunities to innovate. In 2001 the Apple iPod® was introduced heralding in the age of portable audio devices. Scosche was first-to-market with a variety of aftermarket accessories, which included a product to interface the iPod with car audio systems for playing audio through aftermarket car stereos and OEM units. The BLUELIFE® Car/Home/Sport Bluetooth® streaming audio solution was a revolution blending consumer technology with the car audio environment.
LEADING THE WAY IN aftermarket innovations FOR APPLE® PRODUCTS
As other exciting Apple products entered the market, Scosche was in-sync creating products, often firsts, to complement these products. Scosche designed and developed a Firewire-to-USB 30-pin charging adaptor for the iPhone® 3G which alleviated charging issues relating to older 30-pin 5v charging inputs.
As Apple Stores began to appear and spread, Scosche was there first with high-quality earbuds and over time other products like the boomBOTTLE® H20 wireless speaker.
Today, we offer an array of super-fast car/home/travel chargers providing the fastest charge possible for the iPhone®, iPad®™ and iPod®; Rugged Lightning™ USB Charge & Sync Cables with Lifetime Limited Warranties; our award-winning MagicMount™ Magnetic Mounting System in both original and XL (for tablets) great for quickly and securely mounting all your Apple mobile devices to a wide variety of surfaces in the home, office, vehicle and more; wireless and wired headphones/earbuds providing premium sound quality and wearing comfort as you peruse your iTunes® library and more.
And today our Rhythm+™ Armband Heart Rate Monitor (another Scosche first) and still the world's most accurate monitor of its type, now interfaces with the new Apple Watch, providing the best of both worlds.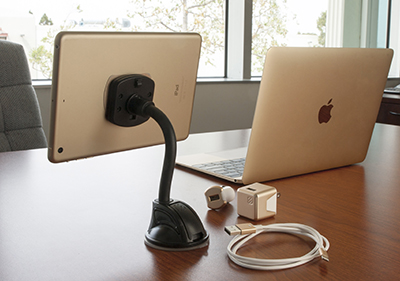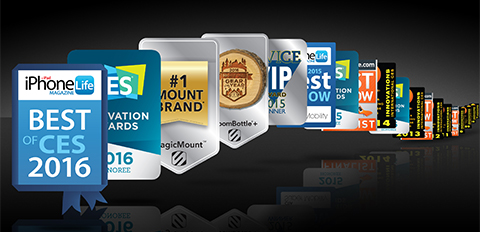 CONTINUOUS Innovation…. CONTINUOUS accolades
Scosche's commitment to innovation is showcased with an ongoing stream of cutting-edge, new product introductions in the car audio and consumer technology arenas. This began to pay dividends in 2008 when the company's DIYBRH Bluetooth® Receiver received a CES (Consumer Electronics Show) Innovation Award. Over the years, the company has racked up an impressive array of awards from both industry and consumer organizations like CES, CTIA, iLounge, MacWorld, iPhone + iPad Life, Popular Mechanics and more.
The company has also been granted over 100 patents. Now that's innovation!
Local business BECOMES Global brand
Fast forward 35 years from its simple beginnings. Scosche Industries is now internationally recognized as an award-winning innovator of consumer technology and car audio products. We maintain offices in three U.S. States plus Hong Kong and have over 140 employees located in four countries.
The company's product portfolio now encompasses thousands of skus spanning the consumer technology and car audio arena. Scosche products are sold in over 50 countries by a wide array of the most recognized names in retail.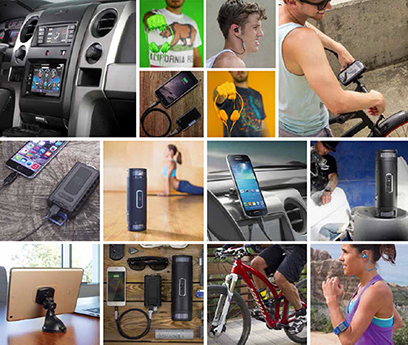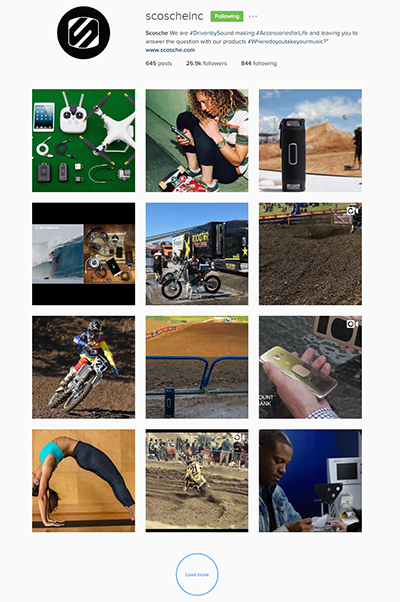 STILL A FAMILY AFFAIR
Despite its growth and success, Scosche remains a family-owned and operated enterprise. Today, the trifecta Executive Team of Roger, Kas and Vince Alves continue to evolve the company's vision, strategies and products to meld rapidly-emerging advances in technology with the practical application of those advances in the consumer electronics and car audio markets.
"Despite our success and growth, we have never strayed from who we are or what we do," said Roger Alves, CEO and Co-Founder of SCOSCHE. "Scosche's mission will always be to design and manufacture cutting-edge innovative products that enhance our customers' everyday lives."
WHAT'S NEXT
We will continue our legacy, continue to innovate, introducing a variety of cutting-edge consumer technology and car audio products along the way.